JUMP Capacity Building

The Journey to Unlock Management Potential (JUMP) Capacity Building Initiative is a twelve-month program that helps nonprofit organizations "jump" ahead by increasing their capacity. This Initiative is designed to help forward-thinking leadership teams unlock their abilities to sustain their mission-driven work and create social change. Capacity-building is defined as the development of an organization's core skills and capabilities including leadership, management, finance, fundraising, programs, and evaluation in order to build organizational effectiveness and sustainability in achieving their mission.
This innovative effort brings community stakeholders from various sectors together towards a common mission: greater agency sustainability and increased capacity of nonprofit organizations in Tampa Bay.  JUMP is coordinated and administered by the Tampa Bay Healthcare Collaborative. Key partners include Allegany Franciscan Ministries, Collaborative Labs at St. Petersburg College, Lackey Consulting, Nonprofit Leadership Center of Tampa Bay and Robertson Consulting Group, Inc.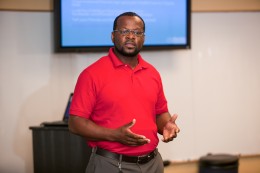 The JUMP Capacity Building Initiative enables nonprofit organizations to guide themselves to success as they define their vision, identify strategies, establish a capacity building team and develop and implement a personalized capacity building plan. The organization selects a five to seven member core capacity building team which typically consists of the executive director, board members, staff and volunteers.
Its unique design allows participants to redefine potential consultative relationships and maximize organizational effectiveness. Combined with methodologically evaluated and evidence based results, JUMP assists participants to achieve mission-related goals and enact positive change for long-term sustainability.  Interested organizations complete the online organizational self-assessment and application. Selected organizations participate in interactive workshops and learning labs, develop and implement a personalized capacity building plan, receive technical assistance and acquire capacity building resources.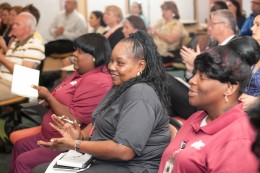 The pilot program for this initiative began in October 2008 with the support of Allegany Franciscan Ministries and the selection of 6 nonprofit organizations serving the local Tampa Bay area. This group included The Centre for Women, Creative Clay, Franciscan Center, Gulfcoast Legal Services, REACHUP and St. Petersburg Free Clinic. In January 2010, the second cohort of nonprofit organizations were selected through a competitive application process. This group included CASA, Healthy Start Coalition of Pinellas, Frameworks of Tampa Bay (formerly OPBI – Ophelia Project & Boys Initiative) and the YWCA of Tampa Bay).  JUMP Cohort 3 participants were selected October 2011 and included, Alpha House of Tampa, Girls Inc. of Pinellas, Kimberly Home Pregnancy Resource Center and Vincent House.  In October 2013, Cohort 4 participants including Hispanic Services Council, Homeless Empowerment Program (formerly Homeless Emergency Project), the Family Healthcare Foundation and Seniors in Service were selected.
ADDITIONAL RESOURCES
For additional information about the JUMP Capacity Building Initiative please click the links below: